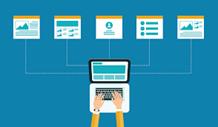 Health care providers across the province are being asked to immediately begin utilizing digital health tools to help support limiting the spread of COVID-19.
To support this, the Ontario eConsult Centre of Excellence and the Ontario Telemedicine Network would like to encourage physicians and nurse practitioners to sign up for the OTNhub.ca to gain immediate access to many valuable digital health tools, including:
The Ontario eConsult Service which enables physicians and nurse practitioners to ask clinical questions to a specialist electronically and receive a response within days, often eliminating the need for an in-person patient visit. For more information visit www.eConsultOntario.ca
Video Visits (eVisits) enables health care providers to connect to patients or other health care providers, no matter where they are located. With Direct to Patient Video Visits, patients can use their own electronic device (a computer, tablet, or smartphone) to connect with their provider through OTNinvite securely and conveniently, eliminating the need to travel to see their physician in person or through a host site. For more information visit https://otn.ca/providers/specialist-allied/evisit/
To get signed up for the OTNhub.ca today visit https://otnhub.ca/signup-info/ or contact customercare@otn.ca or eConsultCOE@toh.ca for help.